Disclosure: There are some affiliate links below, but these are all products I highly recommend. I won't put anything on this page that I haven't verified and/or personally used.

Pinterest Case Study:  Is Pinning for Growth, Using Pinterest the Right 

Platform for 

Your Beauty Biz Brand?



So you know that social media marketing is a fact of life for most businesses today. Customers and clients are using these online platforms to share their lives, catch up with friends and family, network for their business and more. It's important to have a company presence online, but keeping up with every networking site out there would be impossible. You've probably heard a lot of buzz going around lately about how good Pinterest can be for business, but how do you know if it's worth the investment for your business? 

When I first began with my online beauty biz I only concentrated on SEO, or Keyword research.  This took up alot of my time and left me with only spare time to build my blog.  Then came along Pinterest, and changed the game for me.
I started spending more time on Pinterest. Learning how it works, and how to get followers.  I immediately started seeing results in traffic, all directly from Pinterest.  As I was learning, I had hoped to get a couple of people checking out my pages. That did happen, and then some. 
Here is my latest pageview stats for April 2018
I feel extremely comfortable using the Pinterest platform.  In fact, "Guided Search" is a passion of mine, since I began learning keyword research more than 10 years ago. If you are not using Pinterest in your beauty business, you need to start today.  Compared to Facebook, Pinterest has a much higher reach to your targeted audience.
Check out the information below for some insight as to whether Pinterest might be the right platform for your beauty biz brand. 

Pinterest Case Study
One of the biggest misconceptions about Pinterest is that you need to have a huge following to get traffic.  This is simply not true.  I am going to show you how I drive traffic to my blog each month from Pinterest with a low following. 
OK. Here it is...

Research Your Target Audience
Some demographic research is necessary to find out who your target market is, and whether your clientele falls into the demographic of the average Pinterest user. Research the latest information regarding who's using Pinterest to get a feel if your average customer may fall into these groups. The vast majority of this platform's users have always been female, with a median age of around 40.
Thus, it makes sense to consider spending some time here if your customers are mature women. However, spend some time reviewing Pinterest demographics for further insights.

Decide Whether Your Brand Lends Itself to Visual Content


The fact of the matter is that Pinterest is a curation site in which users pin the blog posts, articles and products that interest them. All of these pins are graphically represented. Pins must be visually appealing if they're to stand out among the crowd. Therefore, it wouldn't make sense to spend a lot of time and effort here if your business is one that can't be represented well through graphics.
It is possible to create graphics that are related to your product or service if you don't have a large variety of photo-worthy content. People love quotes, and you could always produce lovely images to go with your posts if you have a blog. Creativity is necessary when it comes to using Pinterest. Just be sure you feel confident in your ability to generate pin-worthy content on a regular basis. 

Evaluate Your Resources
Finally, you also need to take inventory of your resources in order to make an informed assessment of whether a Pinterest marketing effort is a sound plan for your company's needs. Consider whether you have the staff to handle a profile. This means everything from deciding which things to pin, actually pinning them or scheduling pins into an automated program, monitoring any comments and maintaining boards.
This could also include your pin creation if you're going to have this done in-house. You may need to hire a graphic designer to create stunning images if you don't currently have the talent on your staff. Thus, your budget will also be a factor into whether you want to take on a Pinterest campaign as part of your digital marketing plan. 
Pinterest can be an incredibly successful platform for use with online marketing. As with other parts of your efforts, you simply need to be strategic about its use. If you have the money, time, staff and image-heavy content material, your business could do well on the site and be quite popular with its users. Give it a go and have fun with it! 

Ways to Improve Your Beauty Biz Pinterest Boards for Maximum Engagement
This is where your beauty snaps come into play.
While it's important that your pins are user-friendly and easily searchable, you also want to spend some time naming, organizing and populating your boards in ways that make them inviting to users. Messy boards with wide discrepancies in the number and kinds of pins found within them are simply not worth wading through.
Your followers will look elsewhere, and your outstanding content will go unseen. Follow the suggestions below to discover ways to improve your Pinterest boards for maximum engagement, and to make them beautiful. 

Stay Relevant
When just starting out, you may think it's best to follow Pinterest's suggested topics for your boards like books, fashion or places. This really isn't necessary if these things aren't relevant to your brand or of interest to your audience.
Instead, choose themes related to your niche in order to make it clear what your business is known for. In addition, focus on evergreen subjects over holiday or seasonal ones. You'll want to put the most effort into the areas that will stand the test of time. Ramp up seasonal boards in the months prior. 
NOTE:

If you need to re-visit "Who is Your Target Market", to gain more insight into your niche, go to  What Is A Niche Market  to refresh yourself on your target market, then come back to this page and continue reading.
Categorize Strategically
I Start with general boards. Then I Come up with a list of possible broad categories related to my brand. Then choose the most relevant. After that,  start adding more specific boards that will appeal to small groups of potential customers.
Such As: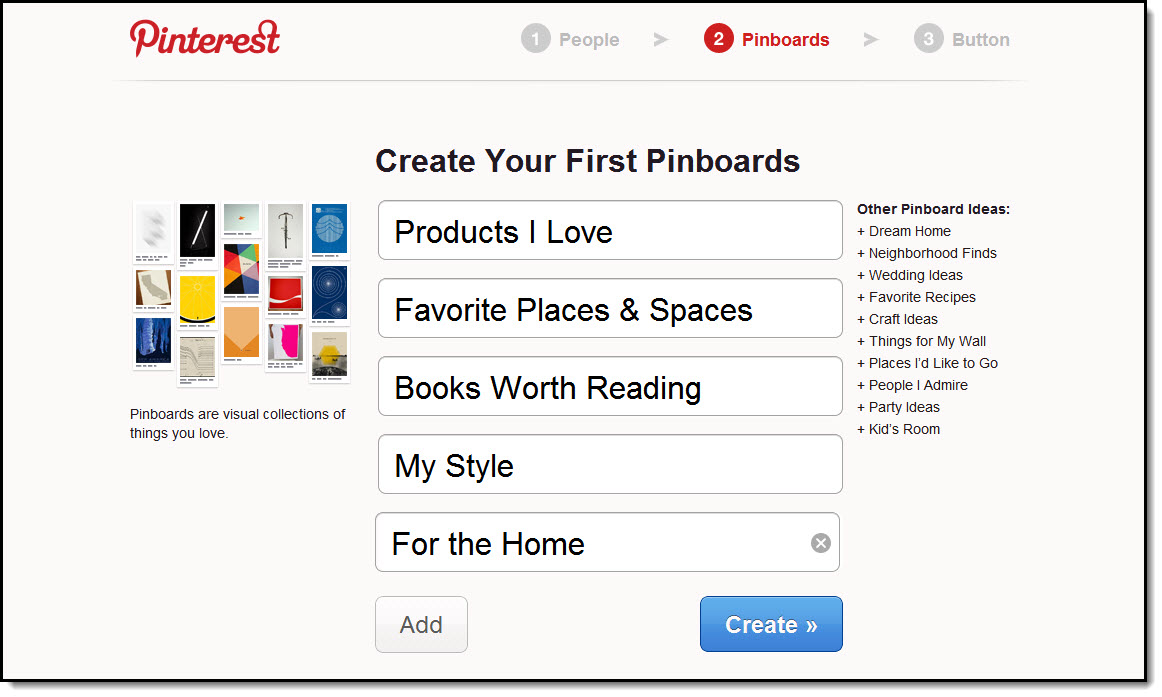 For example: a high-end beauty salon would want to first focus on the types of services they offer by creating a board for each. These could include "hairstyles", "hair color", "manicures" and "facials." Niche boards might be things like "kids' cuts", "hair trends", "styles for long hair", "ideas for short nails", and "aging skin tips."

I always start with "guided search" to narrow down the choices for group boards.
Guided search is a must for being found on pinterest.
In order to use terms that more people are searching for, take some time to check out your Pinterest analytics to see which terms are leading users to you if you already have some Pinterest boards or simply type some brand-related queries into the Pinterest search bar and take note of which terms are generated. 
Clean and Organize Regularly
Once you start pinning, you'll soon see how your boards can begin to take on lives of their own. They can become messy, overflowing and outdated, which makes it pretty difficult for your users to find your best stuff. It's a good idea to do a Pinterest cleanup at least a couple times a year, if not quarterly.
First, look over your boards to see if your categories still represent you well. If one or two don't, that's fine. You can eliminate them. Simply start a more relevant board, move the pins you'd like to keep from the outdated boards to the appropriate new ones, then delete the old boards.
Next, take note of which boards are overrun with pins compared to the others. See if you can narrow that category down even further. Chances are, you can. Create a new, more specific board and move the pins as needed.
I also like to unfollow "Friends".   Seriously, the wrong type of "Friends" can clutter up your platform.  Remember that you are in business, and some "Friends"  just aren't worth it.  I know that some of you may think that this is mean, but its the truth.  Declutter, and life can be easier.
Keep these tips in mind when setting up new beauty biz boards or assessing your current ones. Also, don't forget to incorporate your branding into things by creating cohesive covers for each board using your brand's color scheme and fonts. Organized, up-to-date and relevant Pinterest boards are essential to facilitating user engagement. Staying on top of things makes the process easier, and it can be a fun exercise in creativity. 

The Components of a Perfect Pin 
There are several factors that go into creating an awesome Pinterest experience for your followers:
Are they vertical
Do they stand out, are bold and bright
Are the Descriptions written for Humans and search engines
Lets talk about this super important step that can make or break your Pinterest account.
In today's digital age, there are millions of voices online, and they're all vying to be seen. Thankfully, not all of these online users are your competitors. However, with online content creation of all kinds increasing, there's a good chance that your competition is rising, as well.
What this means is that your goal must be to create digital marketing campaigns that are strategic and efficient. You want your content to reach the most people and have the highest chances of being clicked. In order to optimize your Pinterest material, there are some steps that I take.
Keep reading to discover the components of a perfect pin that I use, and so that you can also use to feel more confident in your social strategy. 

1. Image Quality and Size
Beautiful, motivational, inspirational and useful content is what Pinterest users thrive on. Therefore, your graphics should be a focus of your pinning. Well-designed pins will get noticed before others of average quality, so be sure to use images that are crisp, clear and make a statement.
Stay away from obviously cheap and outdated stock photos. Follow principles of design and incorporate your branding into each pin you create. If you don't have a team member skilled in this area, hire one or outsource the work. Also, don't neglect to consider size in pin creation. Long images are best, and the optimal size is 735 pixels by 1102 pixels.

2. Proper Attribution
Attribution refers to giving credit to the original source of content. In this case, the content is a pin. You can create built-in attribution when developing your own pins by adding a watermark of your logo or website somewhere in your image. When pinning from others, click on the image in order to be directed to the original source. Be sure to mention that website title or URL within your description. This only takes a moment, but will increase your credibility with users. 

3. Context That Makes Sense
Be sure to use images that are relevant to your subject matter. Doing so creates a cohesive story between the title of your graphic and the visual representation it conveys. Using photos that don't correlate to your message is counter-intuitive and will confuse your audience. There are many wonderful sites with professional looking free stock photos, many of which allow modification. So you should be able to obtain good, quality images to suit nearly any topic. 

4. Straightforward Description 
As I said before, The Description is a make it or break it step.  I really take my time with this step, to make sure that everything is aligned with my keywords. 
Your pin's description offers you a number of opportunities to profit, so don't neglect this space!
You'll want to keep your copy to around 200 characters, so it's important to be concise and straightforward. SEO targeted keywords can be used to help rank your pin in the search engines. Just be sure your description reads naturally and tells users precisely what they'll find upon clicking through. Well-written copy-written descriptions  can convert well, inspire trust and increase views. 
And FINALLY:

5. Call to Action
The importance of a strong call to action is often underestimated. People are known to follow the directions they're given. Providing a nudge through a short and instructive phrase is an easy way to get more potential buyers to click on through to your content, blog or website. Give it a try. (See what we did here?)
These components of a perfect pin will help to greatly improve the effectiveness of your graphics. They're definitely worth your time investment and can be a lot of fun to implement. The creation of quality pins offers many benefits beyond increasing sales, such as increased brand recognition, higher levels of engagement and customer loyalty. Your pins are a reflection of your beauty business. 
Good Luck!
Jodie
Do You Have a Great Tip that Helped Your Pinterest Growth/  Please Share Here!