Pinterest Marketing Strategy For
Your Salon or Spa
How Tailoring Pinterest to Marketing For Your Salon Can Increase Business


Tailoring a Pinterest Marketing Strategy for Your Salon can Increase Business
Pinterest Marketing Strategy
- works best if you take your Marketer's hat off and put on your Creativity cap.  

Imagine this- 
If you run a knitting pattern business, don't just show a picture of your amazing knitted Komputer Kozy… make a collage of pictures showing:
How people use it
Where people use it
What people do with it
Think in "stories" – Try to tell a story with your pinboard.  Others may add, and others may comment – but never just upload twelve knitted objects.  Get creative!
In the example above, note the variety of knitting-related photos:
Yarn

Abstract pieces of knitting

Knitting slogan ("Life's too short to Knit with Cheap Yarn")

Design made out of balls of wool

Piece of knitting in progress

Knitters knitting together and drinking tea
If every single photo consisted of a finished piece of knitting, this Pinboard would look like a catalog. This way, it's a statement about the knitting lifestyle – what knitters think, feel, like, delight in, spend time on… and money. 
Adding and Using Pinterest Sharing Icons
You may be surprised to find that within an hour of creating your first Pinboard – even if there is just one photo on it – you already have a couple of followers and several re-pins.  That's how powerful Pinterest is. And this is even more important for your Local Beauty Salon Biz.  As people move in and out of the area, attrition happens.  You want to keep your name out in the public.
But there are definitely other tactics you can add to increase sharing among members of your target market:  And that's to actively encourage people to share your photographs and images… as well as follow you on Pinterest.
There are two buttons you need to know about:  Follow buttons and "Pin it" buttons for direct URL sharing.

1. To add a follow button- simply go to Pinterest goodies and scroll down the page until you see this box:
(note: pinterest changes formats often, so check for updates)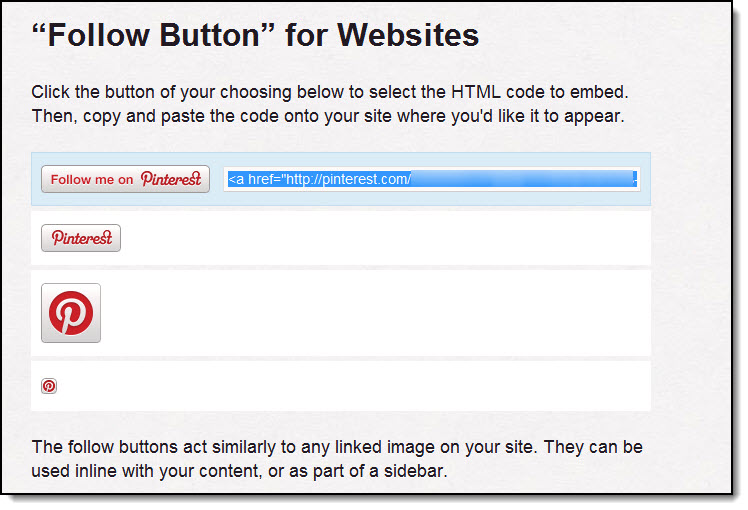 Click whichever icon you prefer, and then copy the code that appears beside it into your beauty blog or website
2. To add a "Pin it" button to your website images- so that others can pin your photos to their Pinboards:  If you scroll even further down, you'll see a similar box for "Pin it" buttons.  Repeat the process with this one exception…

…You can have multiple "Pin it" icons on your web page… but you only need to add the Javascript section only once, above the </BODY> tag.
Using these two types of buttons is going to be an important part of your Pinterest marketing.  Both are calls to action, prompting the reader to engage with your material and website.  Social sharing simply doesn't work if you passively wait for others to find you.

If you're interested in more ideas to build your salon business, check out these other blog posts:
Bugs and Glitches:
Unfortunately Pinterest sometimes has an issue with feed-building.  They blame it on new users "not properly completing the registration process".  You'll soon know if this applies to you – you'll see an endlessly-repeating "building feed" message.

If this happens, you can log a ticket with the Help Desk; or by-pass feed building for now.
To get out of the "building feed" loop-

1. Select "Popular" at the top of the page.

2. Select any Pinboard at random and click the pinner's name (the first name on the list below the image)
3. When their profile opens up, click "Follow All"
4. Click the red "Pinterest" above the horizontal menu containing "Popular" and you'll be returned to the home page:
Other Glitches
Complaints about the "Search" bar sometimes being incurably slow (Fix:  Patience.)

Unable to log in with mobile.  (Fix: Update to version 1.5.1 of your iPhone Pinterest app.)

Stuck on "Loading Friends".  (Fix: Log out and back in again with Facebook or send your invite to your friend directly through email.)
Finding Your Way Around Pinterest
Almost everything can be accessed from the top horizontal menu bar.

1. "Everything" allows you to find other Pinners by category.  You can then leave comments on their boards and/or pin their photos to yours.
2. "Popular" allows you to see Pinboards that are trending – as well as access the "Gifts" category.  A drop-down menu allows people to further categories items for sale by price.
3. "Add +" allows you to Add a Pin, Upload a Pin or Create a Board
4. "About" allows you to manage your profile – as well as access Pinterest "Help", get instructions about the Pin it button, visit the official Pinterest blog, and see other site information, such as Terms, Privacy Policy, Trademark, Careers and Copyright.
Go and familiarize yourself with Pinterest.  Add friends.  Add other Pinboards. Create a few of your own.  
When you are comfortable, you can start to use Pinterest to build your reputation, business and income.
(And, while you're at it, add the Pinterest blog to your daily RSS feed!)
Tracking Through Your Profile – Anytime you want to quickly check basic statistics such as Likes, Activity, Pins, Followers and Following, just click on your Profile photo.  It will give you a visual overview of all your boards too…

Have a Pinterest Marketing Strategy for Your Local Salon Beauty Business Tip Success Story?